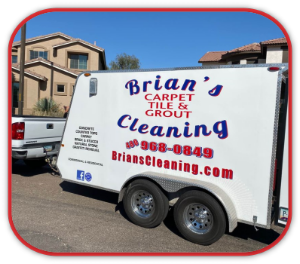 CARPET CLEANING - TILE CLEANING - GROUT CLEANING
Welcome to Brian's Cleaning, a beacon of trust and quality in the East Valley for over three decades. Our commitment to quality and customer satisfaction is not merely a slogan but the core philosophy that guides every aspect of our business. Whether you're a homeowner or a business proprietor, we are here to serve you, ensuring that your living and working spaces remain fresh and appealing.
For over 30 years, we've specialized in Carpet, Tile, Grout, and Wood cleaning. Our wide range of services is designed to cater to the unique needs of our diverse clientele. East Valley residents have come to rely on our proficiency in stain removal, eliminating pet odors from carpets, restoring tile grout to its original color, and so much more. If your floors are crying out for attention, Brian's Cleaning is the name to trust.
What sets us apart from others in the valley is not just our dedication to quality but also our state-of-the-art technology. We employ professional truck/trailer mounted equipment to ensure an optimal cleaning experience. Our highly trained technicians, equipped with cutting-edge tools, are passionate about delivering the best clean possible, leaving your floors looking like new.
Are you in urgent need of our services? Don't hesitate to call us at 480-968-0849 to set up an appointment. We cater to both residential and commercial Carpet, Tile, Grout, and Wood Floor cleaning needs. And don't worry if it's after hours. Simply fill out our online form, and we'll get back to you, often as soon as the very next day.
Brian's Cleaning: Serving San Tan Valley - Queen Creek -Chandler - Gilbert - Coolidge - Florence - Apache Junction


Professional Carpet Cleaning Services for Homes and Businesses
Looking for professional carpet cleaners in San Tan Valley or the East Valley? Look no further than Brian's Cleaning! We pride ourselves on offering the finest carpet cleaning services, both for residential and commercial clients. Our dedicated team has mastered various carpet cleaning techniques, ensuring the highest standard of cleaning for your carpets. With Brian's Cleaning, every room will sparkle!
Deep Cleaning Solutions for Residential and Commercial Carpets
Our deep cleaning services go beyond the surface. We use a combination of vacuum, steam cleaning, and shampooing to give your carpet a deeper clean than regular cleaning can provide. We target dirt and contaminants trapped deep within carpet fibers, removing additional dirt, and improving indoor air quality. By choosing Brian's Cleaning, you choose a healthier home.
Specialized Carpet Cleaning Techniques for Homes and Offices
When it comes to carpet cleaning, one size does not fit all. Different carpets require different cleaning methods. Whether it's tackling tough stains from red wine spills or dealing with stubborn pet messes, our skilled carpet cleaners have the solution. We use specialized carpet cleaning techniques that are gentle on the fibers but tough on the stains, leaving your carpets in a good condition.
Carpet Stain Removal Services for Residential and Commercial Spaces
Brian's Cleaning doesn't just clean your carpets—we renew them. From surface stains to embedded dirt, our effective stain removers can tackle it all. Our stain removal process is designed to handle everything from mud to red wine, pet accidents, and more. Say goodbye to stains and hello to a cleaner carpet with our carpet stain removal services.
Steam Cleaning Services for Cleaner and Healthier Carpets
Our steam cleaning services do more than just clean your carpets. They improve the air quality in your home or office by removing allergens and dust mites. The high temperatures of steam cleaning not only give a thorough clean but also kill bacteria and mold, preventing mildew growth. It's a fantastic way to rid your space of odors and create a healthier environment.
Effective Carpet Cleaning Solutions for High-Traffic Areas
High-traffic areas are no match for Brian's Cleaning! Our deep clean technique penetrates the carpet fibers to remove dirt, stains, and debris from these often-used areas. We also offer special spot removal services, ensuring that the busiest areas of your home or office are clean and fresh.
Carpet Maintenance and Restoration Services for Residential and Commercial Properties
Our carpet maintenance services go beyond the cleaning process. We help prolong the life of your carpet and maintain its beauty with our carpet protection services. We provide tips and products that homeowners can use between our visits to ensure their carpets stay looking their best. And for carpets that need a little extra care, we offer restoration services to bring life back into your rugs and carpets.
Eco-Friendly Carpet Cleaning Options for Environmentally-Conscious Clients
We're committed to providing cleaning services that are safe for you, your pets, and the environment. We offer eco-friendly carpet cleaning options, using products that are non-toxic and biodegradable. We believe in a cleaner and healthier environment for all!
Odor Removal and Freshening Services for Carpets in Homes and Offices
Is your carpet harboring unpleasant odors from pets, smoke, or mildew? Brian's Cleaning has got you covered! We specialize in odor removal and freshening services. Our carpet cleaning techniques effectively remove odors, leaving your room smelling fresh and clean. Let us help you create a more enjoyable living or working environment.
Pet Stain and Odor Treatment for Residential and Commercial Carpets
Pets are a part of the family, but they can be hard on carpets. Our specialized cleaning services tackle tough pet stains and odors, ensuring a clean and fresh environment for everyone. We even treat pet accidents with our pet stain removal process, leaving no trace of the mess behind.
Expert Upholstery Cleaning Services for Residential and Commercial Spaces
At Brian's Cleaning, our services don't stop at carpets. We also offer expert upholstery cleaning for your furniture. Whether it's a stain on your favorite armchair or a general clean for your office chairs, our team of professional carpet cleaners in San Tan Valley is here to help!
Deep Carpet Cleaning for All Types of Fabrics and Fibers
Different carpets and rugs require different types of care. Our trained and certified technicians understand the best cleaning techniques for all types of fabrics and fibers. Whether it's a delicate rug or a tough commercial carpet, we have the skills and experience to give it a deep clean.
Carpet Protection Services to Preserve the Quality and Longevity of Carpets
We want your carpets to last. That's why we offer carpet protection services that go beyond the standard clean. Our techniques and products work to prevent stains, maintain carpet fibers, and keep your carpet looking its best for longer.
Efficient Carpet Cleaning Solutions for Residential and Commercial Areas with Allergen Concerns
Concerned about allergens in your home or office? Our cleaning process removes allergens and improves the indoor air quality, making your environment healthier. We ensure dust, mold, and other allergens are effectively removed, leaving your carpet clean and your air cleaner.
Customized Carpet Cleaning Packages for Homes and Businesses to Suit Specific Needs
At Brian's Cleaning, we understand that each client is unique. That's why we offer customized carpet cleaning packages to suit your specific needs. Whether you require a one-time deep clean or regular maintenance, we have a solution for you.
If you're looking for professional carpet cleaners in San Tan Valley, Queen Creek, Chandler, Gilbert, Coolidge, Florence , Apache Junction Arizona, look no further than Brian's Cleaning. Our carpet cleaning services are top-notch, affordable, and convenient. We pride ourselves on our commitment to customer satisfaction and the outstanding results we deliver. Contact us today to schedule your next carpet cleaning service!
We want to thank everyone who's left us positive reviews over the many years!
Our Carpet Cleaning Services
At Brian's Cleaning, we offer a comprehensive suite of services tailored to your needs. Our Carpet Cleaning uses advanced techniques to remove stubborn stains and odors, restoring your carpet's appearance. Our Tile Cleaning goes beyond the surface to extract hidden dirt, leaving your tiles sparkling. Grout Cleaning revitalizes the lines between tiles, bringing them back to their original color. Furniture Cleaning refreshes your sofas and chairs, enhancing the overall aesthetics of your living space. Vehicle Upholstery service rejuvenates your car's interior, while our Carpet Repair service mends worn-out areas, extending the life of your carpets. Trust us for an all-around clean.
CARPET, TILE, GROUT, WOOD CLEANING SERVICES